About the Inventor, Allan Strand
By Nils Nelson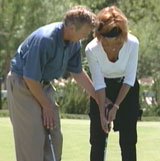 Allan Strand
Allan Strand, designer of the Dandy Putter, began crafting his innovative golf club in 1990. His work was born out of a mixture of frustration and desire to improve his putting. What transpired has taken putting to an entirely new level.
Raised in Minneapolis, Minnesota, early family influences in sports, science and art instilled in Allan a drive for excellence and achievement. His mom, a possibility thinker, was a piano teacher and his dad, a perfectionist, was a basketball coach and high school science teacher with a Master's degree in physics.
At 10 years old, Allan began studying classical piano with Dr. Bernard Weiser, an internationally known concert pianist and teacher. Over the next 14 years, Dr. Weiser taught Allan the essence of mastering the instrument while remaining in a state of complete relaxation. During that time Allan won numerous young artist competitions, but life guided him away from a concert career.
Nevertheless, the personal qualities within -- fortitude, a desire to help others improve, perseverance and an innate nature to accept nothing less than excellence -- drove Allan forward. Ultimately, to the creation of the the Dandy Putter, an "instrument" that allows each of us to achieve our highest level of performance on the putting green.
Allan has been a credentialed PGA Tour Putting Instructor since the year 2000.