16 PGA Tour Wins
( International and State Professional Titles Too!)

2000 Masters Winner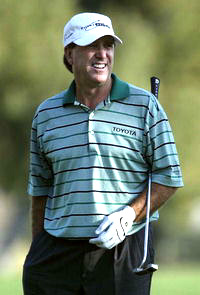 Dr. Gil Morgan
2000 Masters Winner ( Won Playing the Dandy )
In the hands of a great ball striker and mediocre putter (a 40:1 favorite), the 2000 Masters winner "Mastered" the Augusta National greens. He won the Masters going away by 3 shots with brilliant Dandy-putting left-hand low.
Dr. Gil Morgan ( 14 Champions PGA Tour Wins Playing the Dandy )
Dandy owes a debt of gratitude to the good doctor. After discerning the scientific evidence that the Dandy was the best performing putter in golf, Doctor Gil has played the Dandy since 1999, won 14 Champions Tour Wins and is still going strong. Go Doc!
Shingo Katayama ( Winner in Japan Playing the Dandy )
"Cat in the Hat" was 2nd in putting at the 2007 Masters and won in Japan.
Professional State Titles ( Playing the Dandy )
John Snyder: Nebraska Senior State Title. Terry Simon: Minnesota State Senior Title.